Hi! I'm Rev. Laura Bethany Buchleiter, an engaging preacher, an entertaining speaker, an author, and a creative artist.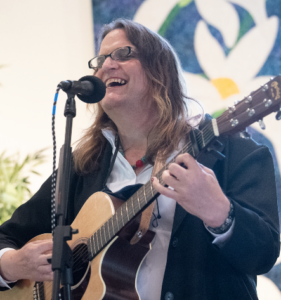 Those who love me call me, "LB." Whether you call me that or Laura Beth or Rev. Buchleiter (BUCK-light-er), I'm glad you stopped by. I have a passion for arts, a love for people from all walks of life, and a deep desire to connect with the world around me. My work has included audio and video production, pastoral care and leadership, and public speaking just to name a few areas I've touched. I have a freshly minted Masters of Divinity degree from Christian Theological Seminary, Indianapolis, Indiana, and was ordained as a Minister of the Gospel by University Baptist Church, Bloomington, IN, (aligned with the Cooperative Baptist Fellowship).
Please browse the website to find schedules, current projects, and archives of productions and writings. You can use the contact page to reach out to me personally. To save you some clicking, here are just a couple of samples.
This sermon on Isaiah 40:1-5 was recorded for the second Sunday Advent, December 6, 2020 and served as both the weekly message for University Baptist Church, Bloomington, IN, and for the final project of a preaching class at Christian Theological Seminary.
This short video features me and some of the cast from the Fruits of the Spirit series of Children's sermons. The fruits are making sure I know all the moves to the original song I wrote and recorded for the series. You can see the whole series on YouTube here.
In addition to long history in audio and video production, I enjoy nature photography, including animals and landscapes, capturing all the joy to be found in creation. Most of my video work these days supports my other work in developing web and streaming content for faith communities – or just scratching a creative itch. Among my other hobbies, I am a musician, songwriter, and artist with pyrography (wood burning) as my medium of choice. I am available for commissioned works such as church buildings for retiring pastors, new baby gifts, or memorializing a pet. Use the contact or booking form to ask for more information.